SL1500 Series Wind Turbine
Product overview
SL1500 series wind turbine adopts mature and reliable double-fed power generation technology with rotor diameter 70/77/82/90/93m and hub height 65/70/80/100m which can meet requirements of various onshore areas. There are over 8000 sets of SL1500 series turbines installed since the establishment of first Chinese MW level wind farm in 2006. This series of wind turbine has obtained certificates of GL, TüV SüD and CGC. After years of optimization, we have launched it to third generation.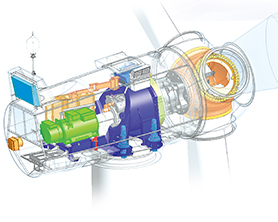 Based on big data analysis of over 8000 sets of wind turbine, key components, electrical system and remote control system are optimized; turbine performance and reliability are improved with better energy production;
Leading technologies including load optimization control, fault self diagnosis and advance warning, sharing information with neighboring turbines, program upgrading, turbine commissioning and fault eliminating bring to customer better reliability and maximum availability;
Control technologies including dynamic fine pitch and yaw system, smart soft cut-out and grid connection optimization maximizes power generation and customer profitability;
Technologies including wind farm power prediction system, smart security system , noise control , fine data management system successfully meet the needs of customer;
Satisfying with the most critical grid code requirements in the world. Smart adjustment on active and reactive power output. Reaching international advanced level on high & low voltage ride through and grid adaptability.